Truly, where did the year go? January 2022 both feels like 100 years ago but also like it was just last month.
For this month, I'm probably going to be busy with work amping up. That being said, I'm still going to try and participate in 2 readathons, the Queer Lit Readathon (read queer books for a week) and Legendathon (read retellings for a week), and read several holiday romances. That being said, when I tried to list out the 10+ books I wanted to read in each of those categories, I immediately got overwhelmed. So, I cut it to the main ones I want to get to no matter what.
Here are the 6 books I'll be reading this month!
---
This round of the Queer Lit Readathon is taking place between December 4th-11th. It's hosted by Kathy and Rogan with guest host Adri of perpetualpages. All links go to the hosts' YouTube Channels where you can learn more about the readathon and the challenges! Below is the bingo board.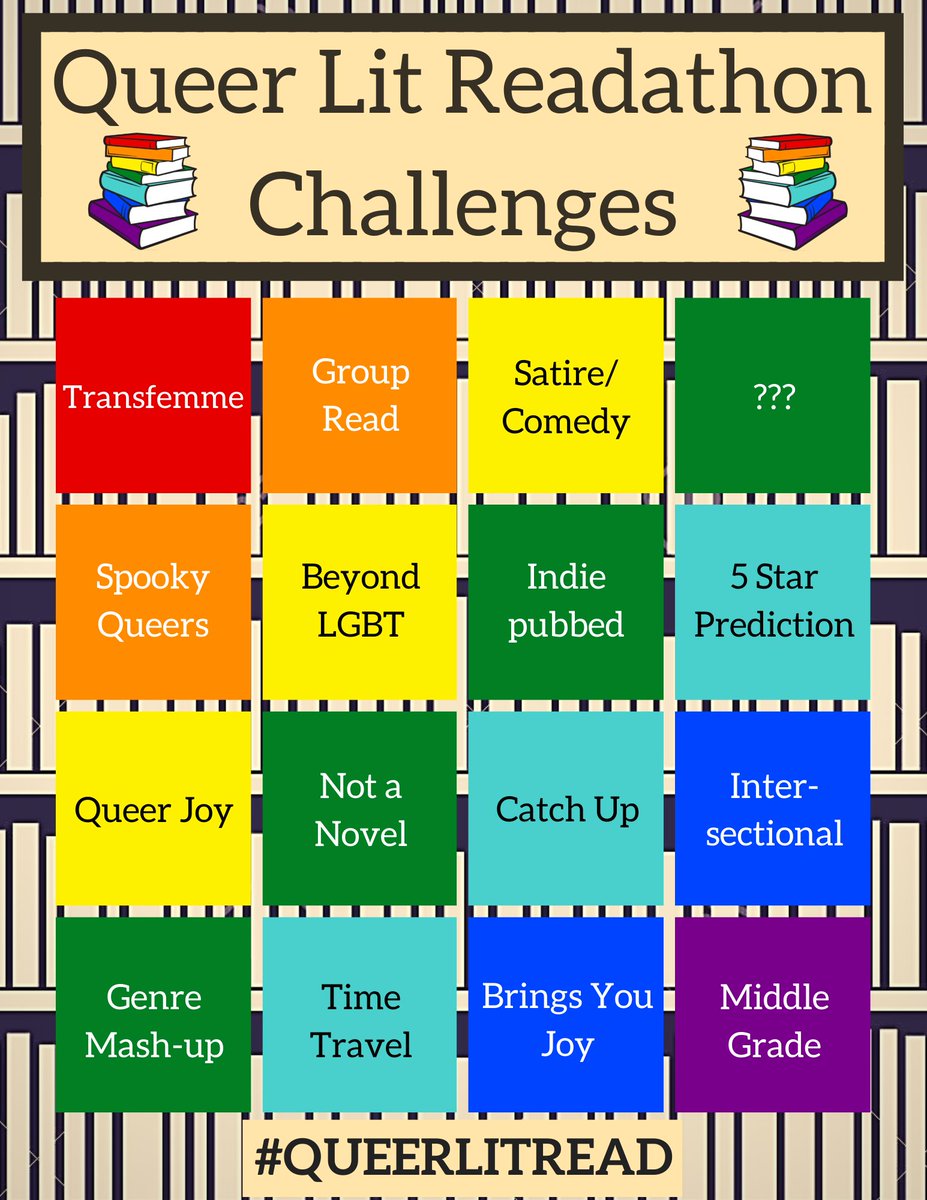 I'm going to be going for the right most columnl, but stay tuned to my wrap-up to see if I get any other bingos incidentally!
Light from Uncommon Stars by Ryka Aoki
I know I rarely know the summary of a book, but I really don't know a lot about this book. All I know is there's a trans girl running from home, a deal with the devil, and violins. It was also comped to Good Omens, so I'm excited for whatever this book has in store!
This counts for the prompts: Intersectional, Transfemme, and Genre Mash-Up.
Cattywampus by Ash Van Otterloo
Cattywumpus is about magical families and the girls who are coming of age in those families. I love witchy books and queer middle grade always makes my heart happy, so I can't wait to give this one a try!
This counts for the prompts: Middle Grade, Beyond LGBT (intersex MC), Spooky Queers, and Brings Me Joy.
Peter Darling by Austin Chant
Peter Darling is a trans retelling of Peter Pan I've had my eyes on for years. Peter comes back to Neverland after transitioning and realizes how much Neverland has changed. Again, I know very little of this book, but I've been excited ever since it was re-released with this very pretty cover.
This counts for the prompts: ??? (retelling for Legendathon), Catch Up (books I already own), Indie Pubbed, and 5-Star Prediction.
---
And now here are three other books I need to read before the end of the year!
Daughter of Redwinter by Ed McDonald
I previously put down this eARC temporarily because I figured I'd do better reading a queer wintery fantasy when it was already cold out! The main character can see and speak to the dead and is currently in refuge in the mountains from the current ruling class.
Eight Kinky Nights by Xan West
I've only heard amazing things about Xan West's work. This is a romance between two middle aged queer women teaching the other about kink over the course of Chanukah.
Wrapped Up in You by Talia Hibbert
With Talia Hibbert being my favorite romance author, I still can't believe I haven't read this Christmas novella. The main characters get snowed in with a lot of dogs, but really all I need to hear is "Hibbert romance" and I'm ready.
---
Are you participating in any readathons this month? Any books you need to read before 2022 is over? Let me know in the comments below!