It's an early TBR so you know it's a readathon I'm excited for!
This round of the Queer Lit Readathon is taking place November 29th – December 5th. It's hosted by Kathy, Rogan with special guest R. All links go to the hosts' YouTube Channels where you can learn more about the challenges!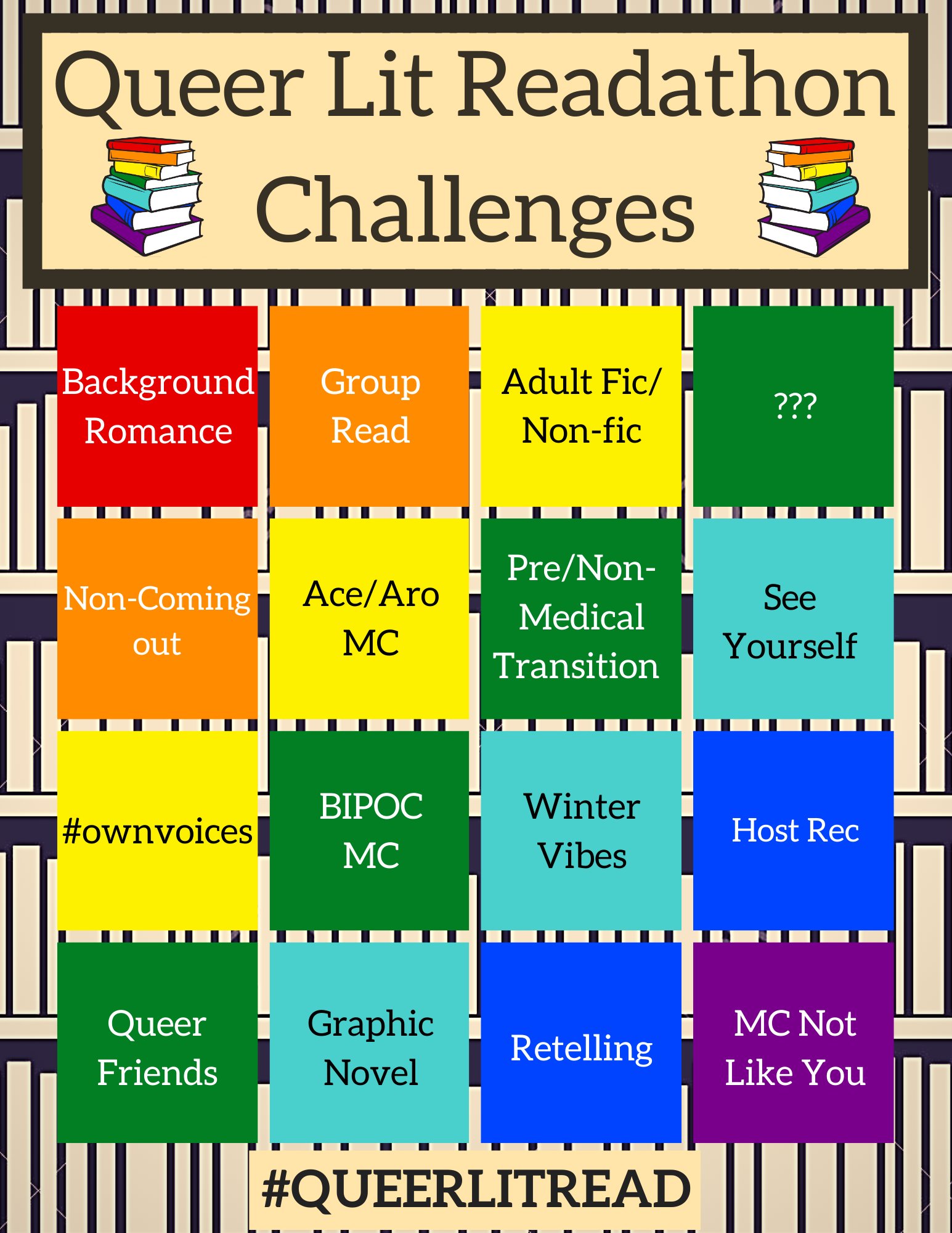 I'm aiming for either the 3rd row or 4th column, but I think I can double up/triple up enough that even if I have to DNF a book (fingers crossed I don't), I can get a bingo! Now let's get into the 4 books I want to read!
The Electric Heir by Victoria Lee
I've had this ARC for far too long. I wanted to read it all the way back in March but… that didn't happen. This is the sequel to The Fever King which I absolutely love.
This counts for the challenges "Non coming out," "see yourself" (bi),
and #ownvoices (bi).
Chemically Enhanced Butch by Ty Bo Yule
This is an indie published memoir given to me by the author. It's about Yule's time growing up as a closeted trans guy in the 80s
This counts for the challenges "Adult/Nonfiction" and #ownvoices.
The Black Flamingo by Dean Atta
I've heard a lot of good things about this book and as much as I prefer audiobooks for books in verse, I am super excited to get to this story about a young biracial teen exploring their identity through drag.
This book counts for a bunch of challenges; "BIPOC," "MC not Like You," "???" (poetry) and ownvoices.
The Midwinter Witch by Molly Knox Ostertag
I specifically saved this one for the season, so I'm ready to finish this graphic novel series! Also, while it's not about queer characters, the way Ostertag uses magic as an allegory is clearly queer and there's background queer characters as one of the character's as two dads.
This counts for "graphic novel," "winter vibes," and "Host rec" (Rec'ed in Rogan's video here).
---
---
Are you participating in this readathon? What's on your December TBR? Let me know in the comments!