Blogtober is OVER! The 3 readathons are OVER! I am never doing 3 overlapping readathons plus releasing more posts than average again, oh my lord.
I read 11 books this month but I'm also wrapping up 3 different readathons, so this is gonna be split into readathons for ease of reading. Buckle up!
---
Non-readathon books
Welcome to Night Vale by Joseph Fink & Jeffrey Cranor – 4.5 stars
After owning this book for year, I finally read it and it is just so freaking Night Vale. Like this is exactly what it says on the tin, it's Welcome to Night Vale as a book with a narrative. It has two new characters with cameos from the people you know.
The Haunting of Hill House by Shirley Jackson – 3.75 stars
This was really good! I was creeped out by someone knocking on a door, which I find impressive. This book was a masterclass in anticipation.
Over the Garden Wall: Tome of the Unknown by Pat McHale & Jim Campbell – 3.5 stars
This was okay. Four of the stories were basically mid-quels linking up episodes from the mini-series. The best story was the last one about the woodsman's daughter.
The Haunting of Tram Car 015 by P. Djèlí Clark – 4 stars
Oh, man, I need to consume everything in this universe now. The world was so lived in and the relationship between the characters was great because who doesn't love a "grizzled old timer" mentoring the "excitable newbie" relationship!?
---
Latinx Book Bingo
I had plans to read 5 books for this readathon, and I ended up DNF-ing 2 books, and reading 4. Here's my completed bingo card! I didn't get a bingo, but I got pretty close!
Cemetery Boys by Aiden Thomas- 4.5 stars
A new favorite! Read my full review here!
Hotel Dare by Terry Blas & Claudia Aguirre – 3 stars
It was a solid graphic novel! It was full of adventure and family! I do think this could've done well to be longer, maybe even two issues? But I do recommend it!
Ghost Squad by Claribel A. Ortega – 3.5 stars
This is going to be weird, but while I gave this like an average rating, I think this is going to make a great movie. I listened to this on audiobook and the narrator was good, but I'm still going to reread it later on physically to see if that helps in getting a better hold on the story.
---
Trick or Treadathon
If you need a refresher on the challenges, here they are. I was also reminded that you can also make a prompt as done if the book has the monster in it, a.k.a. if a book has a male witch protagonist, the Witch prompt can be marked completed.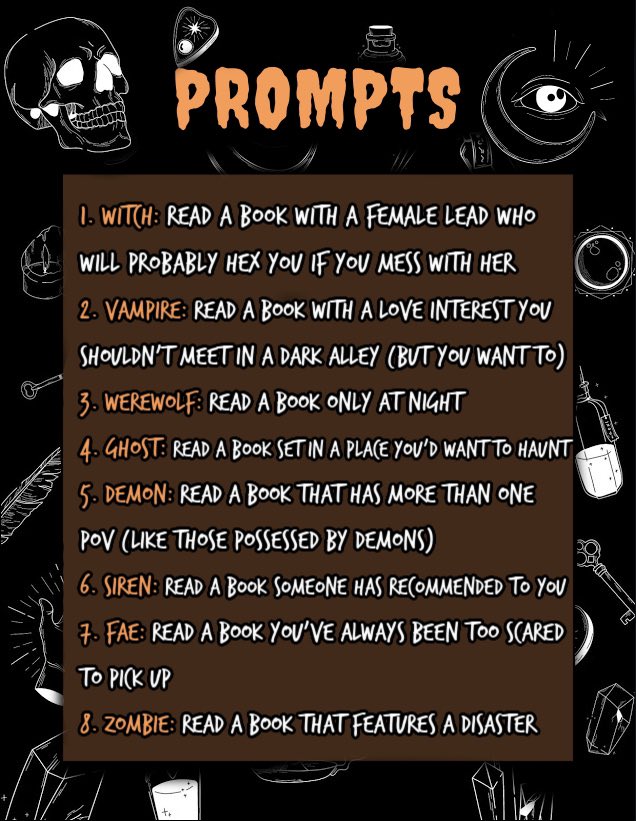 Not going to double up on books already mentioned, so just know I counted Cemetery Boys counted for the Siren category and Ghost Squad for the Ghost prompt.
The Bone Houses by Emily Lloyd-Jones – 3.5 stars
I read this for the Zombie category. It was really good! I did guess the twist but that didn't stop my enjoyment. Ryn and Ellis were fine characters with some cute moments and the world overall had a great aesthetic. I get that people could think it starts slow but I read it in like 2 days.
The Eternal Highlander by Hannah Howell & Lynsay Sands – 2 stars
I read this for the vampire category and oh boy, was this a trip. For one, this is actually two novellas in one book and two, it was crap. Read my full rant review here for both weird little novellas.
Dracula by Bram Stoker – 3 stars
I read this for the Fae prompt. I'm glad I read this classic vampire novel. It had moments of actually creeping me out, and it was fun to see Mina Harker solve everything for the boys. Although that will make watching adaptaions annoying as I'm pretty sure movies don't give her that recognition as "the only one in the vampire hunter squad with a brain cell."
The Voting Booth by Brandy Colbert – 3.25 stars
i read this for both the Witch and Demon prompts. I needed a little political positivity in my life, and reading about fictional teens who care so much about voting and fighting voter suppression did help. This takes place over 24 hours, which I didn't hate, I felt Election Day helped to make it feel more realistic.
Disability Readathon
This is only at the end of the wrap-up because I only read one novel, but I still want to highlight the other stuff I did for this readathon.
For Category 1, I completed the challenge "Watch a video by a disabled YouTube creator" and I watched two videos; a video on inspiration porn in Hollywood (watch it here) as well as a video on the #FreeBrittany movement (watch it here).
For Category 2, I "Read 3 Instagram posts by 3 separate disabled Instagrammers (and give them a follow!)" Like I said in my TBR I followed sitting__pretty, annieelaniey, and disability_visibility and read posts from each of them I also remembered that along with already following Annie, I also followed Jessica Kellgren-Fozard, and so I also read her posts.
The one book I read for this readathon was for Category 3, "Read a book that you've wanted to read for a long time," which was The Bone Houses, which as I said before, I enjoyed@
And lastly, I didn't get to the book I wanted to read for Category 4, so I changed it to "Read a text about voting rights for disabled people" and I hit the jackpot with a scholarly article written about the #CriptheVote hashtag, which you can read for free here!
---
And we made it! If you made it to the end of this long ass blog post, leave a heart emoji in the comments!