It's that time of the month, when I really don't have a plan for this week and went and found a cute tag to do! And I totally timed it on purpose to fall (ha) on the week of autumn beginning.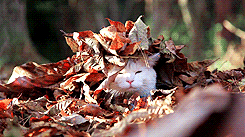 The rules:
Please link back to me, Bionic Book Worm, as the creator of this tag!! I want to see your answers!!
Use the graphics – if you want 🙂
Have fun!
---
City of Strife! It has about 14 different perspectives and they're intertwined wonderfully. All the action takes place in one city, but you feel like you're constantly moving. I've read books that claim to be "an LGBT book" or with "LGBT representation" when they're only referencing one or two letters, but this book was not that. This book I swear had every character some non-straight orientation.
Rule! While I liked this book, I wasn't expecting to want to continue the duology, but then that cliffhanger hit and I was like "well… RISE is being added on GoodReads right now."
Children of Blood and Bone is also up there. While also dramatic, it didn't hit me as much as Rule did (but maybe by this point I was too busy celebrating the death of One Major Love Interest to really let it sink in).
I haven't finished it yet, but I can assure you that Empire of Light, for the first seven chapters, never stops.
It's a pure sci-fi book with queer characters just trying to survive int he underbelly of society. The beginning has explosions, enemies introduced, dangerous powers, a sex scene that's more about character dynamics than erotica, and probably more explosions.
Cemetery Boys by Aiden Thomas! No cover yet (Swoon Reads… please!) but I cannot wait for this magic Latino ownvoices trans man narrative! It sounds similar to LABRYNTH LOST but even gayer and with paranormal romance that I'm so hype for!
The Kiki Strike series. It's a series that I'll always hold close to my heart, even though a reread showed that it hasn't aged well. No, let's be fair, it barely aged well when I first read them.
But it's a book about a group of girls who come together to explore and they go on adventures and for 12-year-old me it was everything and for 21-year-old me it's a nice flood of nostalgia (and realization that THIS should've been my queer awakening).
Why settle for "or" when you can overachieve with "and"!
I love the gradient of colors, even if the pink background isn't the best for the yellow/orange parts.
Famous in a Small Town is about a small-town high school banding together to raise money by getting big name country singer to return to her hometown, even though she's sworn never to return.
---
And now's the time I tag all of you! If you want to join in on the fall themed fun, consider yourself tagged!
What's your favorite thing about fall? Let me know in the comments!