A gay readathon to start Pride Month!
The Queer Lit Readathon is a week long readathon hosted by Kathy and Rogan with guest host Yvette from Bookcave. This round lasts from June 2nd to June 8th. More information on the hosts and the readathon can be found here with the challenges explained here!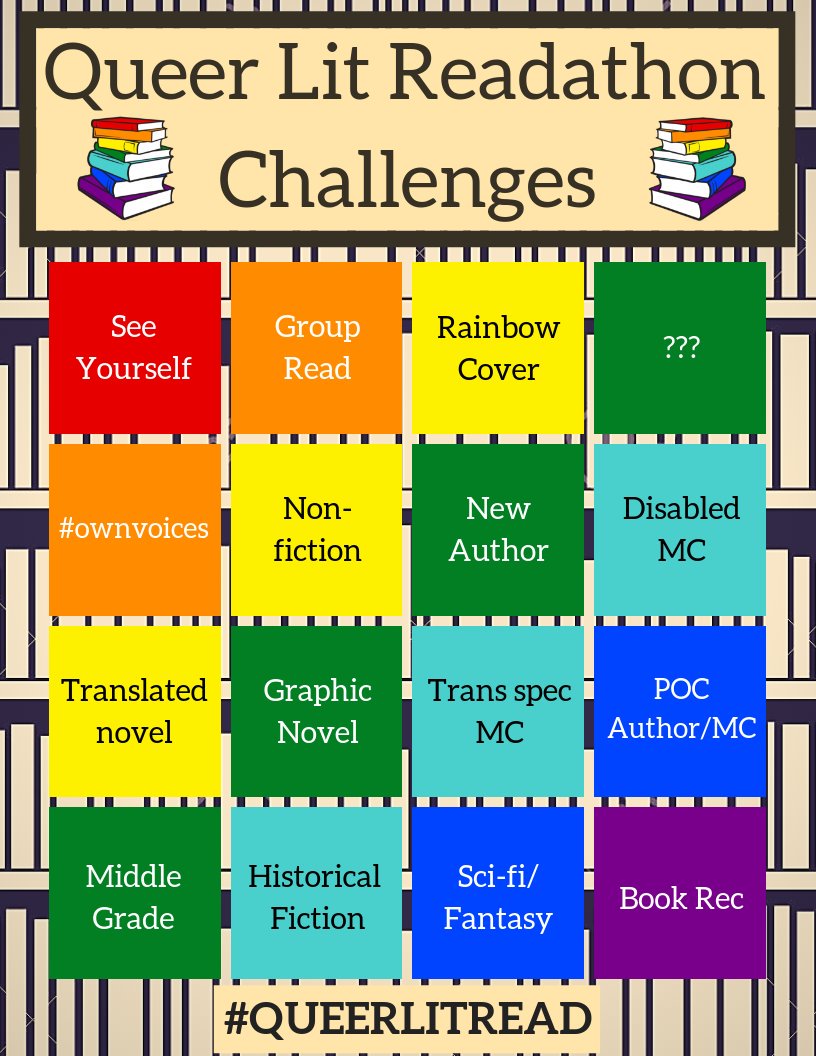 I'm just going for a normal bingo this week. If I read more than four books, then that's awesome, but I'm aiming for four.
I reworked my TBR twice because the first time I realized it was looking pretty white, but I feel like this looks way better now.
I'm going for the third column, so from Rainbow Cover to Sci-fi/Fantasy. These all also count for multiple squares, so the bolded one is the one I'm focusing on for the bingo.
Love Is Love: A Comic Book Anthology to Benefit the Survivors of the Orlando Pulse Shooting was created after the shooting with all proceeds going toward the families.
I got this when it was initially released and it's just been sitting on my shelf. When I bought it, I thought it would just be general gay stories, but turns out they're all about the shooting which is way more depressing than I was anticipating. But, it's short, so if nothing else I can just get it over with.
I Hate Everyone But You is composed of the texts and emails of two girls as they enter their first year of college in different states.
I won the sequel in a giveaway so I'm gonna check out the first book! As far as I'm aware, it's their first book for both of them (and I haven't read anything by them).
I Wish You All the Best is a YA contemporary book about nonbinary teen Ben and how they survive their last year of high school.
My most anticipated read of 2019! I didn't have enough time to read this in May so I have to read this first.
GIRLS OF PAPER AND FIRE by Natasha Ngan is an Asian-inspired fantasy about these 8 girls who are annually chosen to be "Paper Girls," or concubines, for the king, but this year there's a 9th.
I know this book handles sexual assault/rape and has a f/f romance and that's about it.
---
I plotted this all out on the card, and it looks like double/triple counting these books will mean I'm getting two bingos! Not close to blacking out the board, but pretty close!
If I finish all 4 books by the end of the week (which I'd be very impressed about), I'll go on to other random squares on the board.
The completed bingo card will be posted in my June Wrap-Up post at the end of the month, so keep you eye out for that!
Any books here that you enjoyed? Are you participating in Queer Lit Readathon? Let me know!